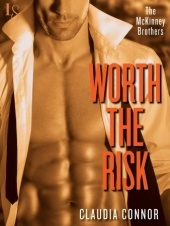 I liked Hannah instantly. I loved what she did for a living, and the care and love she had for the people that she helped. How she took what she was handed in life and made something good out of it. It also helped that she has some hot, protective brothers looking out for her!
Stephen was hard to like at first, but I have to say he did grow on me. He isn't one of those perfect Alpha males - and to be honest, I still like his brother Matt better. This doesn't mean he was a bad person, he just let what happened with his finance harden him, and his walls were harder to break down.
Stephen and Hannah's relationship is not easy, and it really takes some hard work on both parts to get through it all. I seriously wondered if they would make it at times. But, have no fear, you will get your HEA - and included in that you get more of Matt, Abby and all the kids and other family members. Once again, looking forward to the next McKinney's story.