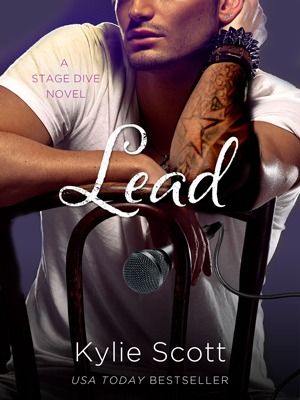 I absolutely love this series!! These four guys have totally stolen my heart, and I really wish they were an actual band, so I could totally go all "fan girl" on them - listening to their music on my ipod, and hanging posters of them on my wall!!
This story is about Jimmy, David's brother, a recovering addict - who is working hard on staying clean, and taking care of the people he loves. Lena, through a strange twist of fate, is unexpectedly hired by the band to be Jimmy's "sobriety companion". Jimmy is not the easiest person to be around - she learns that very fast, but she can handle him - she's not going to let him walk all over her.
The problems for Lena begin, when she realizes as she's spending time with Jimmy, being his companion and assistant, that she is slowly falling for him. She knows she needs to either get over this infatuation or quit her job - Jimmy would never want her. My heart hurt so much at times for Lena, as I think a lot of us know the pain of "unrequited" love at one time in our life. She was so brave - I don't know how she had the nerve to tell Jimmy exactly how she felt about him - I could have never been that brave for sure.
How to describe Jimmy??
Well, he's a total contradiction when I think about it. He's a recovering addict, a former man-whore, extremely private, fiercely protective of his brother and those he cares about - but he is so very naive at relationships. He seriously thought he could help Lena get over him. I did have to laugh at some of his attempts at that, but deep down my heart broke for Lena, because she knew it would never work, she'd always have feelings for Jimmy. She had to leave.
This is where I'll leave the rest for you to enjoy and read - and see how these two work out whether they should be together - or go their separate ways. My stomach was in knots at times, I just wanted to give Lena the biggest hug ever, yet I couldn't hate Jimmy for the life of me. He had his reasons for all of his feelings and actions. I just love these two people.
I devoured this book for sure - but I have to say though, that so far, Mal is still my favorite of the four, he just makes me smile, and holds a special place in my heart. I was so glad there was some of his "craziness" and antics in the book - along with Killer's appearance too! But to be fair, before I pick my favorite in the band I'll wait for Ben's story - who knows he may end up being my favorite of the group!
Rock on Stage Dive!!!