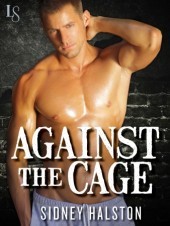 For Chrissy Martin, returning to her Florida hometown always seems to bring bad luck. The day starts with a breakup text, followed by a jailhouse phone call from her troublemaker brother. Now a routine traffic stop has ended with her accidentally punching an officer... in a
delicate
place. Then Chrissy realizes that the hot cop on the receiving end of her right hook is none other than the man from her teenage fantasies.
Jack Daniels knows how to take a hit. After all, when he's not chasing reckless drivers, he's kicking ass in a mixed martial arts ring. So what takes his breath away isn't the low blow, but the woman who dealt it: a gorgeous knockout with legs Jack wouldn't mind being pinned under—who just so happens to be his best friend's nerdy little sister, all grown up. Soon their instant chemistry leads to a sizzling affair, but Jack and Chrissy are fighting an uphill battle if they want to make love last beyond the final bell.
I really enjoyed this light, hot read. I laughed so much just picturing Chrissy "hand" over her license and insurance to the "officer" and accidentally bringing him to his knees with that action.
Chrissy wasn't a love-struck teenager anymore. She was a woman now, and not naive and defenseless like before. Even if she was still totally smitten with Jack, she was not going to let him trample her heart. She was in town to bail out her brother - get her money back and leave. Having a fling with Jack wasn't on the agenda.
Jack wasn't going to miss this opportunity with Chrissy. After eleven years, she had grown into a beautiful woman, and he wanted a shot at her. He could feel the attraction between the two of them, and
Jack being the smooth, dirty talker that he was - took the first opportunity to make his move and
get her all flustered. Geeze, he even got me all flustered with his dirty talk!
Chrissy had so many things to work through on her trip home. Not only did she have this whole new "relationship" with Jack happening, she had to reconcile a few issues with her brother. Once she could work some things out - maybe things would become more clear about what decisions she should make for her future. The problem was, she felt like running again - but Jack was not going to let her stay away again. He knew she was definitely "worth the fight".
I loved Jack so much in this book, he was a good sport, and he definitely had a great sense of humor. I loved how he didn't mess around with telling her how he felt about her, showed his interest right away - before she ran again. And, how could you not love a man named Jack Daniels, with a Chihuahua for a pet that was part pit-bull.
If you're looking for a sweet, spicy romance this book is for you.